Kitchen
Pro Chef Knife Series
Pro Chef Knife set C : 150mm(P)+90mm(P)
Thursday June 15, 2023 12:00 PM On sale 10 sets/monthly limited edition
Price 価格 ¥60,000(including tax¥66,000)
We will deliver an exquisite kitchen set wrapped in beautiful gift packaging, consisting of two premium knives for professional use, a natural marble cutting board, a Tochigi leather knife case, a knife protection cover, and a knife sharpener.

This remarkable kitchen set is guaranteed to be appreciated, whether for personal use or as a present for someone special.

Please note that each item will be properly wrapped after receiving your order. Therefore there may be a minor delay in shipment (usually within one week).
Spec
Pro Chef Knife set C : 150mm(P)+90mm(P)
Pro Knife 150mm

Petty knife 180mm For Pro

Type
Petty knife
Full Length
275mm
Weight
90g
Blade Length
150mm
Blade Material
63 Layers of Stainless DAMASCUS
Handle Material
Packer wood
Made in
Tsubame-Sanjo(Japan)

2. Pro Knife

90mm Paring knife

Type
Paring knife
Full Length
220mm
Weight
70g
Blade Length
90mm
Blade Material
63 Layers of Stainless DAMASCUS
Handle Material
Packer wood
Made in
Tsubame-Sanjo(Japan)

3. Natural Marble Cutting Board

Size
300mm(L)× 160mm(W) × 13mm(H)
Weight
1.5kg
Material
Natural Black Marble
Country of origin
India

4. Knife Sharpener

Made in
Tsubame-Sanjo(Japan)

5. Leather Knife Case

Tochigi leather

Leather Material
Cow leather

6. Knife Protection Cover

Material
PP plastic and non-woven fabric
Thursday June 15, 2023 12:00 PM On sale 10 sets/monthly limited edition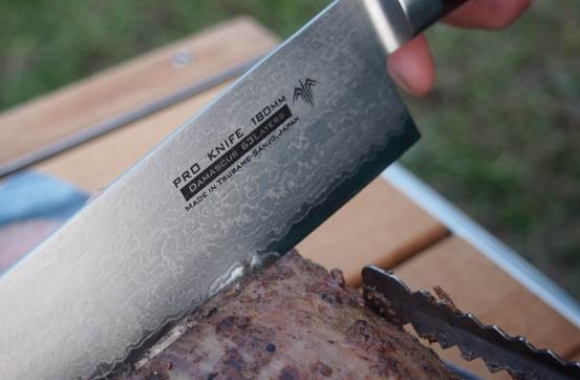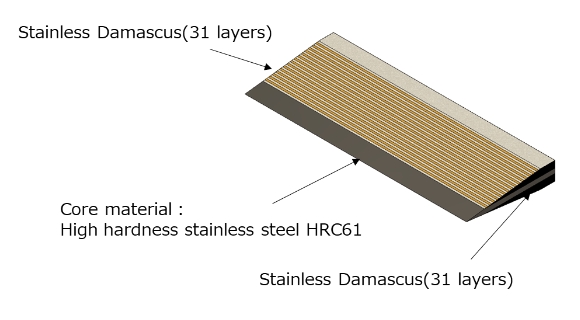 High-hardness stainless Damascus steel
Damascus steel is high-hardness stainless steel, and the root is an Indian steel called "Wootz." Since it is almost impossible to recreate its complex manufacturing process, people nowadays call the multilayered forging material "Damascus steel." Damascus steel is widely used in premium knives because the pattern is reminiscent of Japanese swords. Our products employ stainless Damascus steel, which has excellent corrosion resistance. The core material that affects sharpness is high-hardness stainless steel (HRC61). Therefore, our knives are for professional chefs because of their excellent sharpness, which lasts longer than general household knives(HRC50-56). It is designed specifically for culinary activities, withstanding exposure to water and salt. Experience the enduring sharpness of a professional-grade knife with our stainless Damascus steel product.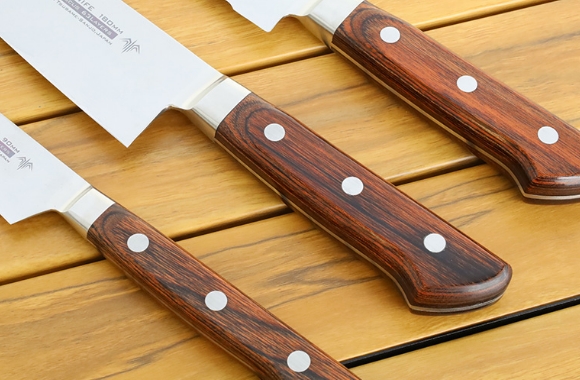 Packer Wood

Our knife handles are made of multiple sheets of natural wood boards, using pressure to create materials that offer excellent strength and water resistance. They are designed for professional use. These handles are built to withstand tough water environments and can accompany chefs for extended periods.
Experience exceptional beauty exclusive to the natural world, where each wooden pattern is unique.

Blade-edge sharpening by skilled artisans.

Our skilled artisans hand-sharpen each knife with meticulous precision, ensuring unmatched sharpness. Experience the pinnacle of craftsmanship, surpassing machine-made knives.

Double Name Marking

The logo of ordinary knives is usually engraved on only one side. This knife is a special edition with double markings on both sides, as seen in the "Bushcraft Knife Prominence MH-001.

Blade-edge Regrinding

We provide a professional blade-edge regrinding service for a fee. The artisans regrind blades so you can enjoy your knife's long-lasting sharpness.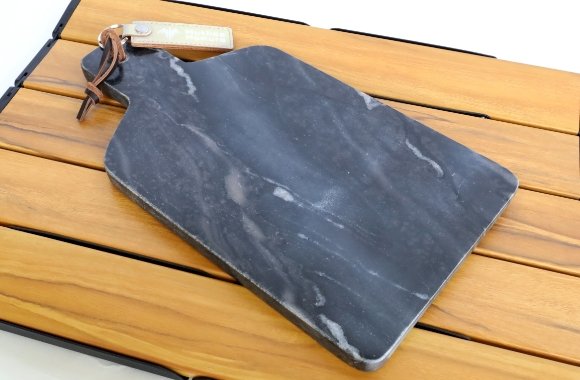 Natural Black Marble Cutting Board
This cutting board can be an elegant serving platter for cutting food and decorating cheese or other foods elegantly. Please be aware that the knife may damage the cutting board due to its hardness. Also, there are variations in color tone and pattern. Enjoy the unique designs of natural materials.
The cutting board has a special "Muthos Homura key ring (the greige-color leather key ring engraved "Muthos Homura" with silver foil). It can be detached from the cutting board and attached to your bag.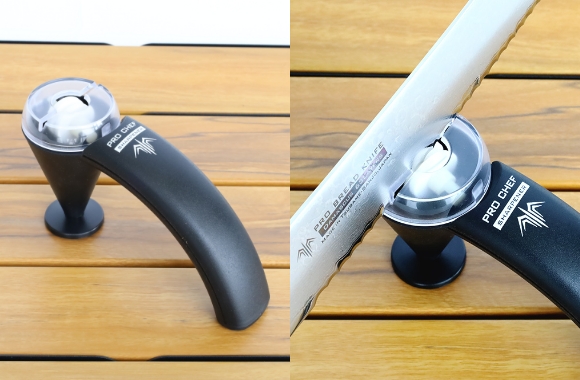 Knife Sharpener
The dedicated sharpener is attached.
If the sharpener is not enough to sharpen the blade, we recommend you use our blade-edge regrinding service for a fee.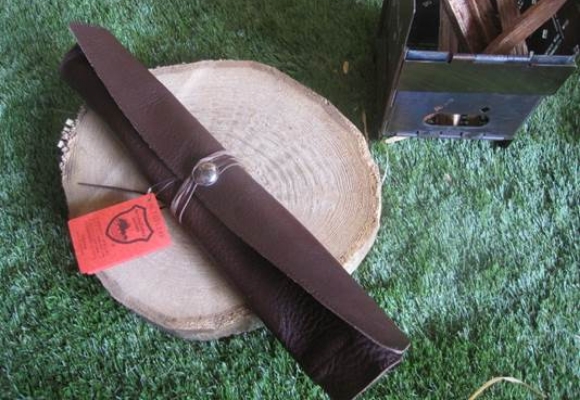 Tochigi leather knife case
You can wrap the knife in this knife case and bring it to an outdoor activity.
This material is high-quality tanned leather. The phoenix logo of "Muthos Homura" on the button looks gorgeous.
The red tag is also attached to prove Tochigi leather's quality further.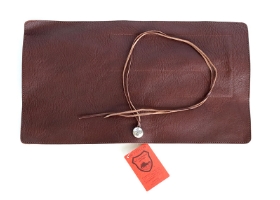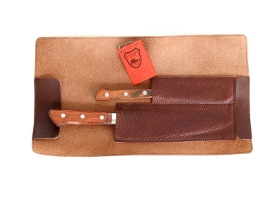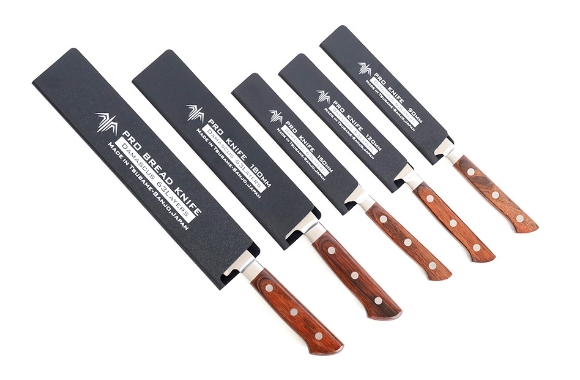 Knife protection cover
Knife protection cover is designed to protect the blade when the knife is carried without a leather case. The color is black, and the delicate non-woven fabric inside the cover enables smooth insertion and removal of the blade. It can be used together with Tochigi leather knife case.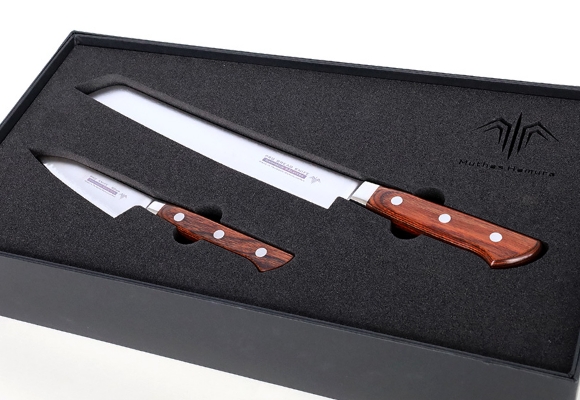 Gift Box
We will deliver it to you in a display box that is suitable as a gift for someone special. It is a unique and unparalleled all-in-one knife set showcasing the exquisite craftsmanship of Tsubame-Sanjō.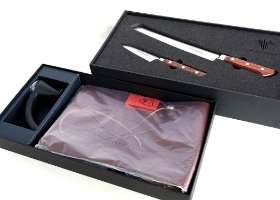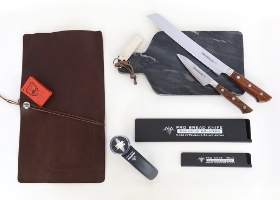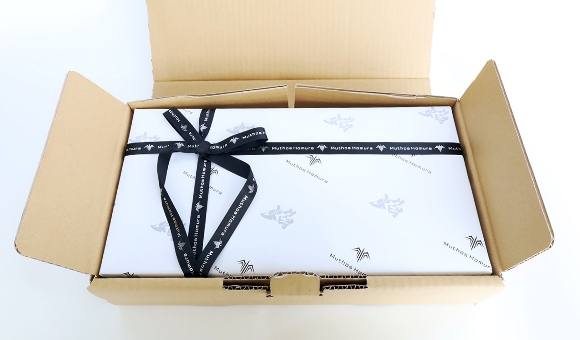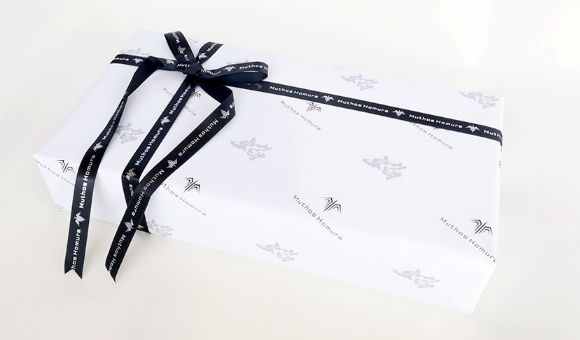 Gift Wrapping
We provide excellent wrapping that can be gifted directly to your loved one. Please note that the wrapping is delicately applied to the inner box while the outer one is designated for shipping.
Related Products