Outdoor
Bushcraft Knife
Prominence MH-001
Now On Sale (Global) June 30 09:30am(JPN)
Price 価格 ¥35,000(including tax¥38,500)
Introducing the ultimate camping knife - a bushcraft masterpiece with a patented asymmetrical blade shape (PAT: 1683276). Unique and reliable, it's perfect for camping. Try it out and see for yourself.
Spec
| | |
| --- | --- |
| Full length | 230mm |
| Blade Length | 107mm |
| Weight 250g | 250g |
| Blade Material | HS⁴01 High-strength special stainless steel |
| Handle Material | Rose Wood |
| Screw Material | Slotted screw SUS304 |
| Sheath Material | Tochigi-Leather |
Now On Sale (Global) June 30 09:30am(JPN)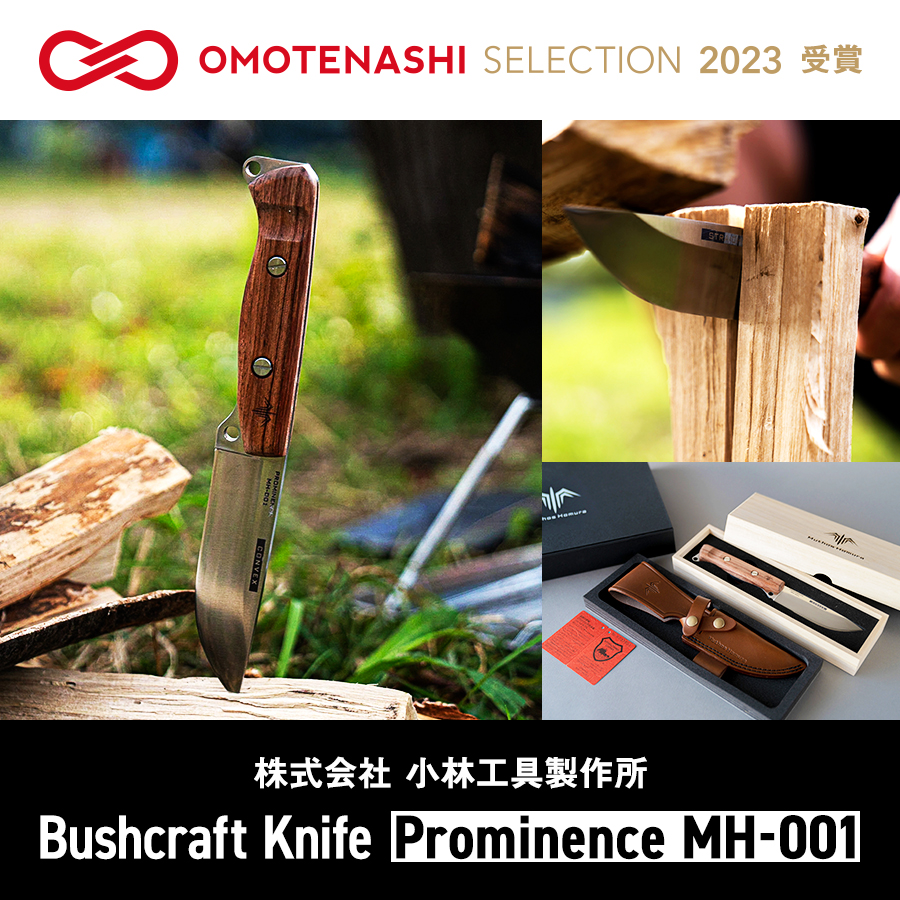 Omotenashi Selection Award 2023
We won the Omotenashi Selection Award 2023 run by more than 20 private companies such as ANA X and Japan Post.


The "Omotenashi Selection" is an award for which approximately 15 international specialists living in Japan certify products that are full of charms worth sharing with the world.

'OMOTENASHI' refers to the thoughtful consideration and dedication towards users. The Omotenashi Selection project conducts an absolute evaluation based on whether the charm of the product can resonate with the judges' own countries and people from abroad. Only products and services that meet the criteria are certified, making it a project to promote Japan's traditions, technology, and heartfelt hospitality to the world.

Website for Our Company's Award-winning Products
https://omotenashinippon.jp/prize/selection/2023/2300-01-043/

Press Release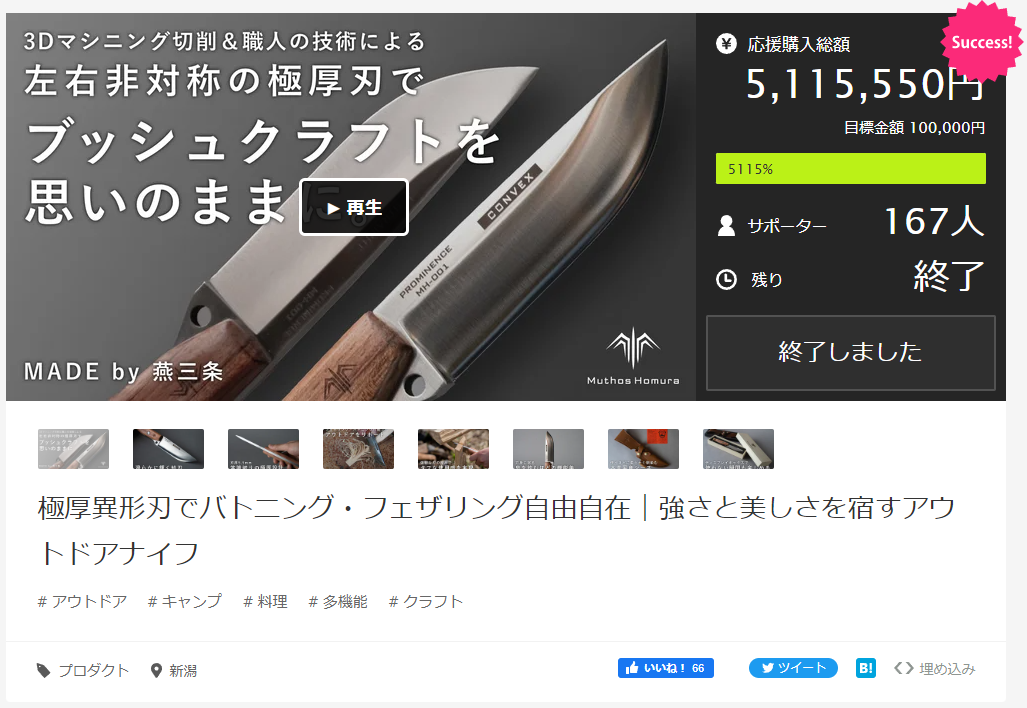 Muthos Homura's first original item "Prominence MH-001"
at Makuake crowd funding : 5115% sales achieved
https://www.makuake.com/project/muthos-homura/
Makuake crowdfunding Schedule
 November 14th, 2022 12:00pm(JST) Pre-Sales Limited 200pcs at Makuake
 January 14th, 2023 12:00pm(JST) Pre-sales finished


  Go to Makuake crowdfunding

Our Online shop Sales Schedule
Muthos Homura Online Shop starts
 April 1st, 2023 12:00pm(JST)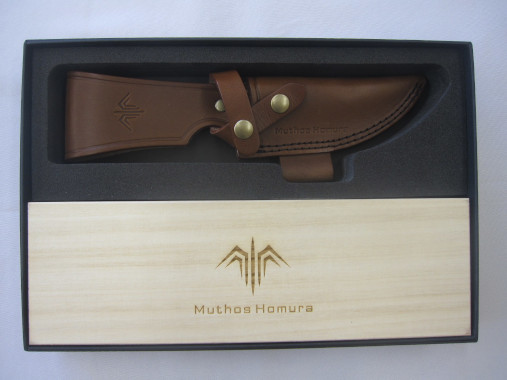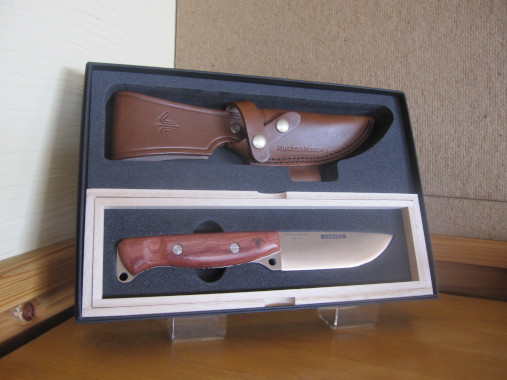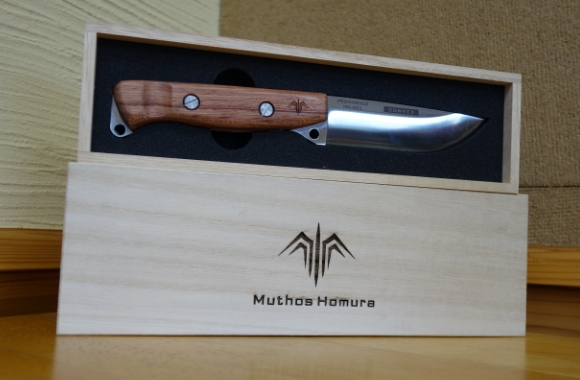 Muthos Homura has achieved a functional beauty that can only be possessed by superior industrial products. This product is an exceptional piece that combines outstanding performance and a timeless beauty that never gets old.
The accompanying sheath is made of carefully selected Tochigi leather, while the knife itself is housed in a paulownia box, allowing the knife and sheath to be displayed together. The design is not only functional but also adds a touch of brilliance to your home decor.
We hope that this product will be loved and cherished for many years to come.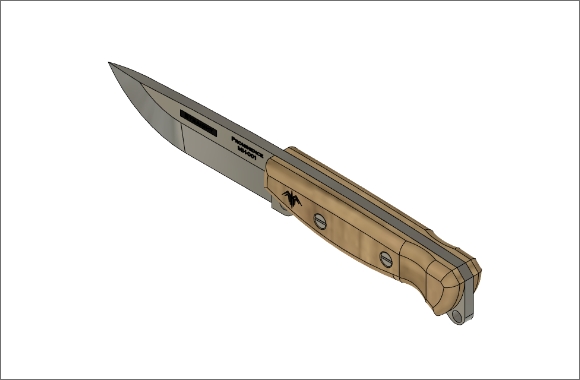 The blade thickness of full-tang survival knives is typically approximately 3mm, but the Prominence MH-001 is made for batoning and feathering and has a 5.5mm blade thickness. The shape of the knife will lead you to the pinnacle of experience while giving you an overpowering sense of security.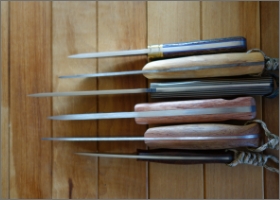 Comparison with other full-tang knives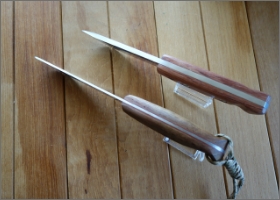 Blade thickness Prominence MH-001 : 5.5mm Other company's brand : 2.7mm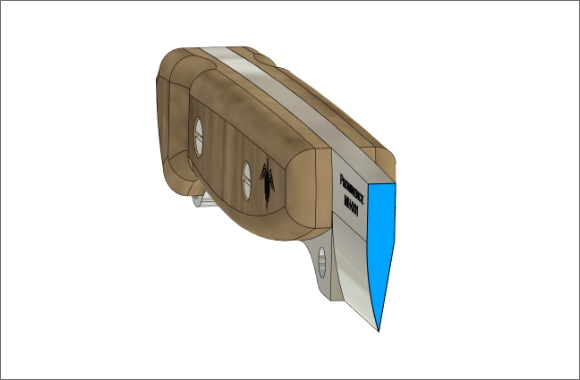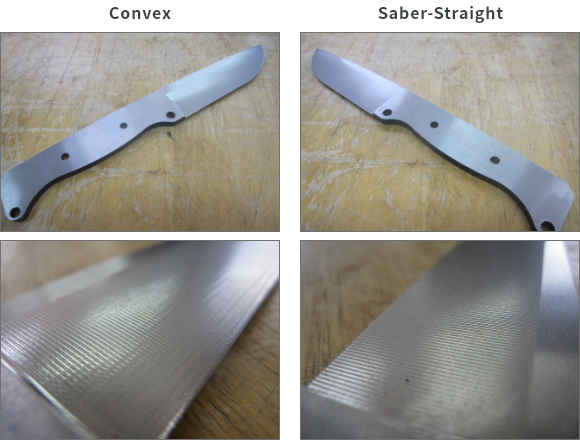 Survival knives commonly have different blade shapes for various purposes,
Full-Flat Grind: Entire surface is the blade
Saber Grind: About 2/3 of the surface is the blade
Scandi Grind: About 1/3 of the surface is the blade
Convex Grind: Rounded blade, clamshell blade
Chisel Grind: Single edge

While Convex grinds are difficult to produce, Prominence's blade has an asymmetric grind for easy batoning and feathering, with a Saber and Straight blade on the left and a Convex grind on the right. Using NC processing during manufacturing enables stable mass production with high accuracy. This design is unique to Muthos Homura and is a registered design.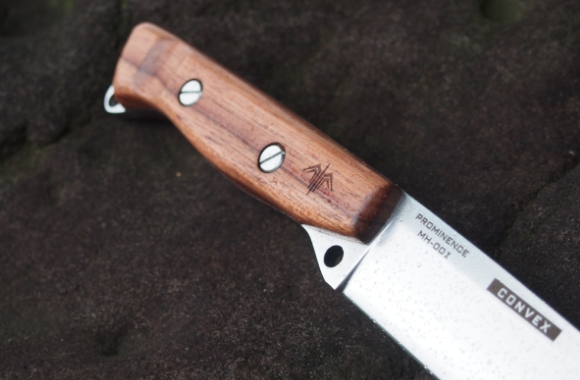 For individuals looking for one-of-a-kind blades, customization comes first. While Torx screws or difficult-to-remove semi-permanent rivets are typically used to secure full-tang knife handles. However, we have switched to using unique minus screws to facilitate maintenance and handle replacement. In addition, we offer fully customized handles and handles that may be 3D printed in unique shapes. We also provide unmatched customization possibilities like laser marking, 3D inkjet printing, and special surface treatments.

Please be aware that while our distinctive minus screws are made of corrosion-resistant stainless steel, the hardness cannot be altered, making them more prone to scratches. Therefore, despite our best efforts during assembly, we kindly ask that you accept the possibility of minor flaws or deformations on the main part and consider this.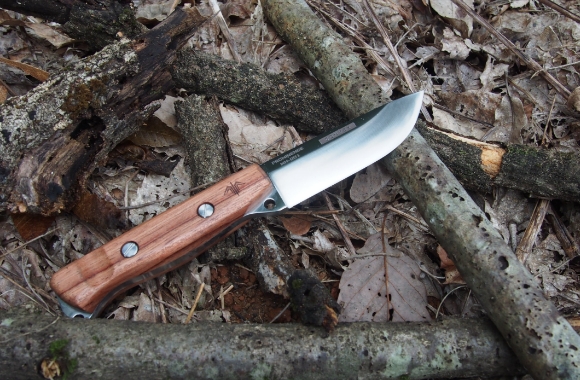 Seeking the optimal design for cutting tools.
Many knives are on the market boasting high hardness (HRC65 or higher). However, Kobayashi Tool Mfg. Co., Ltd., the origin of Muthos Homura, has been involved in producing industrial cutting tools for nearly half a century and has learned that the performance of a cutting tool cannot be solely defined by its hardness. Instead, we place emphasis on a combination of two essential properties in cutting tools:
Hardness: Resistance to blade dulling
Flexibility (Toughness): Resistance to breakage and suppleness. We aimed to find the optimal solution that balances these two properties, which contradict each other. After a two-year verification process involving material selection and evaluation of hardness and durability, we have concluded that the optimal solution is "HS401 high-hardness special stainless steel + sub-zero treatment (HRC60)." Please enjoy the rigid and flexible blade, like a Japanese sword.

※Sub-zero treatment
Sub-zero treatment is a unique process used to improve the toughness and hardness of steel. While heat treatment by quenching is commonly used to harden steel, it can also form brittle structures during the cooling stage. The sub-zero treatment eliminates these brittle structures by rapidly cooling the steel at temperatures near -100°C, improving toughness and hardness. This process is used in the production of molds and high-end knives. ※Blade re-sharpening
We provide optimal design, but depending on the user's environment, the object being cut, and frequency of use, the blade may become dull. In such cases, the blade can be rejuvenated through our re-sharpening service, allowing for more prolonged use.※"Special hardened stainless steel HS⁴01 material" is our company's proprietary name.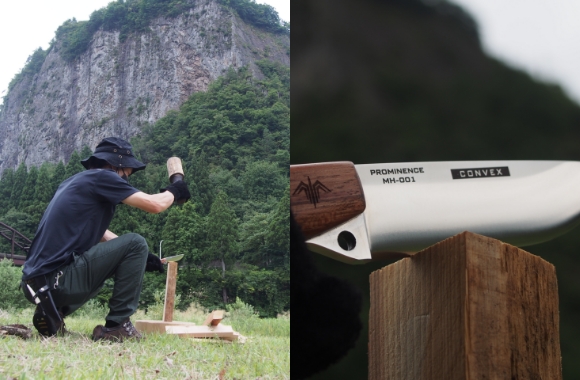 You can easily split firewood into smaller pieces by deeply and sharply entering it like a hand axe and then spreading it apart with the convex shape. Then, thanks to the full-tang blade with a thickness of 5.5mm, you can hit it with firewood or a baton with full force and ensure that it will be driven in.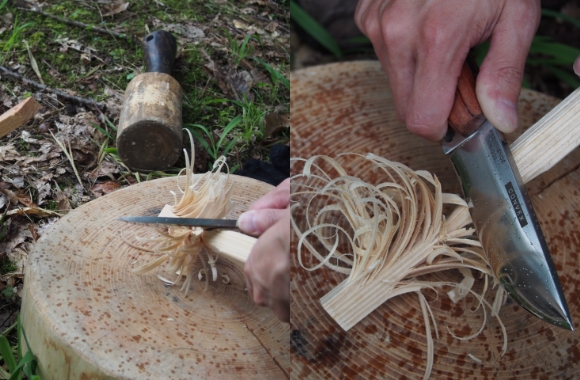 "Feathering is a complex method that enriches the camping scene by allowing anyone to simply generate curls. While traditional double-edged knives and convex knives both have advantages and disadvantages, Prominence MH-001 has a blade form that is specifically suited for feathering.
Here's how to put it to use:
Shave the wood thinly using the straight side.
Use the rounded convex side to naturally curl the wood.
This makes high-quality feathering accessible to everybody."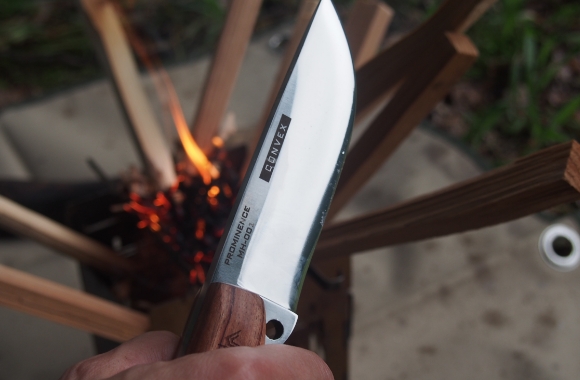 You can use the back of the knife to start a fire, but the look of the knife may be harmed by sparks, therefore we recommend using a specific starter as much as possible.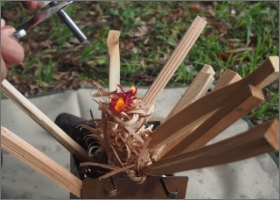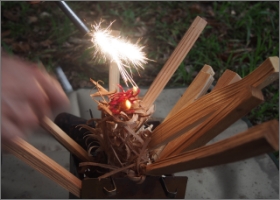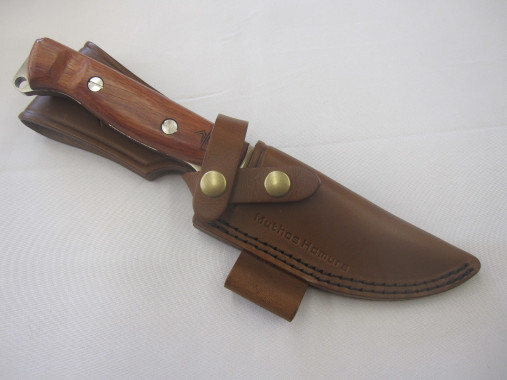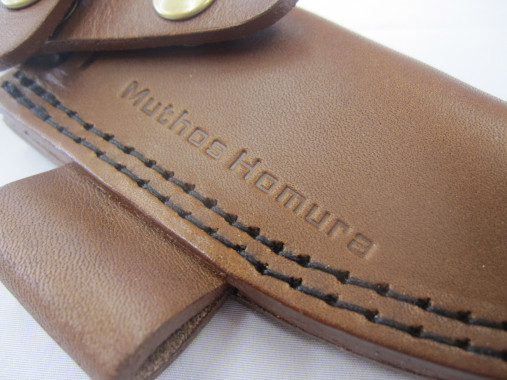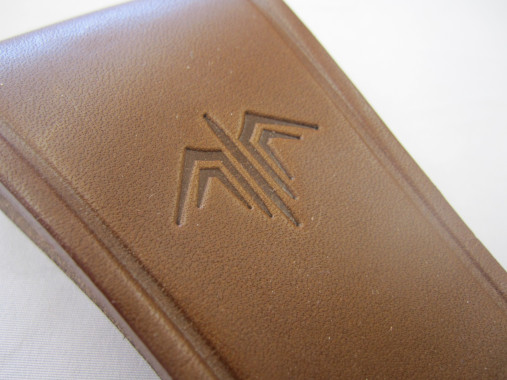 Our sheaths are made of Tochigi leather, which we hand-picked for its high quality. Two burn scars are used as embellishments to add to the classy appearance.
At the time of shipment, we will include a red tag with a serial number, which serves as confirmation of Tochigi leather products.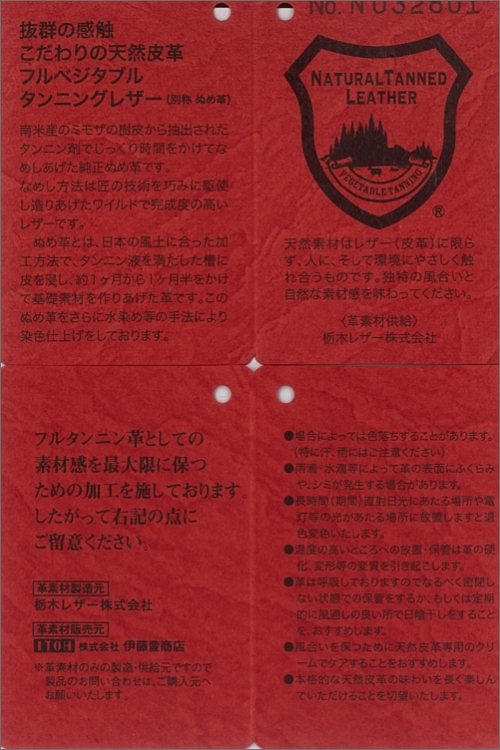 Related Products