Outdoor
Premium Knit Camping Wear
Black
Price 価格 ¥8,000(including tax¥8,800)
Muthos Homura's camping wear is made to order and features our logo embroidered on the chest and right arm.
Spec
Color
Black
Size
SS, S, M, L, LL, 3L
Material
Flame-resistant special fiber
Yarn
Made with 'Toray' Alpha fiber
Made In
Japan
Size Details
SS: Length 63cm / Chest 90cm / Shoulder width 42cm / Sleeve length 20cm
S: Length 66cm / Chest 96cm / Shoulder width 44cm / Sleeve length 21cm
M: Length 69cm / Chest 102cm / Shoulder width 46cm / Sleeve length 22cm
L: Length 72cm / Chest 108cm / Shoulder width 48cm / Sleeve length 23cm
LL: Length 75cm / Chest 114cm / Shoulder width 50cm / Sleeve length 24cm
3L: Length 78cm / Chest 120cm / Shoulder width 52cm / Sleeve length 25cm
Please note that this product is made to order and will take approximately 3-4 weeks to be delivered.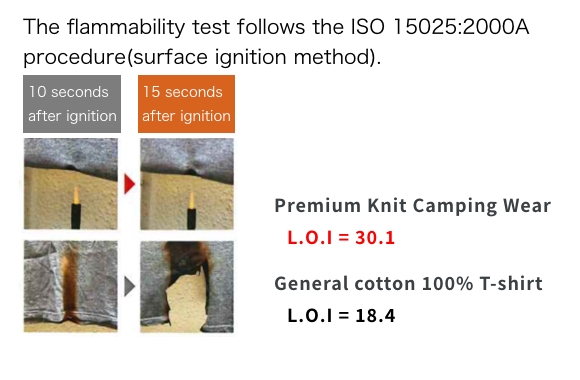 This item is high-end clothing made in Japan from a remarkable flame-resistant material for folks who love and live with Muthos Homura. Despite its excellent flame resistance, the garment is knitted and combined with cotton to provide a delicate texture and comfortable feel.
※Flame-resistant fibers are fibers that have passed the ISO tests and have the feature of being difficult to ignite and spread, but they are not fibers that do not burn at all. We appreciate your acceptance and understanding.
※Fibers with an L.O.I. value of 26 or above are generally considered flame-resistant.
Related Products